---
---
ACCEPT
Restless and wild (1982)
---
---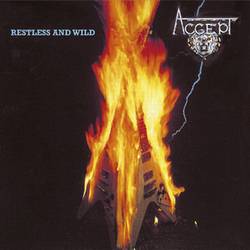 Ja, ja die seligen 80er!!! Das war die Zeit, in der ich erstmalig meine metallischen Wurzeln entdeckte und sie bis heute auch nicht wieder verloren habe. Ja auch ich hab mal klein angefangen (Scheiße damals war ich grad mal zwölf). Zu Accept bin ich damals über den Bruder meines leider viel zu früh verstorbenen besten Freundes aus Grundschultagen gekommen. Dort habe ich auch das erste Mal "Fast as a Shark" auf die Ohren bekommen, was den jungen Chris schlichtweg voll geplättet hat.


Natürlich bin ich dann meinen Freund solange auf den Sack gegangen, bis er mir die ganze Scheibe von seiner Keule auf Tape hat ziehen lassen. Die Rede ist hier, ihr habt's sicherlich schon längst erkannt, von dem Teutonenstahl Meisterwerk schlechthin, nämlich den 1982er Klassiker "Restless and Wild". Meine Fresse das Teil hat mal eben schlanke 32 Jahre (in Worten Zweiunddreißig) auf dem Buckel!!! Eingehämmert wurde das gute Stück in der Besetzung Udo Dirkschneider (Gesang), Wolf Hoffmann (Gitarre), Hermann Frank (Gitarre), Peter Baltes (Bass) und Stefan Kaufmann (Schlagzeug) in den Dierks Studios in Stommeln. Und die Produktion war, für den damaligen technischen Stand, richtig fett und sorgte beim Abspielen der LP auf dem heimischen Dreher für wohlige Verzückung und exzessives Spielen der Luftgitarre.

Das Teil ist seiner Zeit eingeschlagen wie eine Bombe und verhalf den Burschen zum weltweiten Durchbruch bzw. gab ihnen einen ordentlichen Schups in die richtige Richtung. Und auch heute noch werden diese 10 Perlen des vierten Studioalbums der Solinger Edelstahlschmiede bei jeder Live Show nach allen Regeln der Kunst abgefeiert. Bereits der Opener "Fast as a Shark" sorgte damals für einen regelrechten Schock bei mir! So eine sauschnelle Doubblebass Nummer hab ich bis dato noch nicht gehört. Und als dazu noch dieser fiese kreissägenartige Gesang von Hr. Dirkschneider einsetzte sind mir meine Gesichtszüge völlig entglitten und ich hab Schnappatmung bekommen!!! Einfach nur Megageil das Teil über das man sagt, dass es sich hier um den ersten Speed Metal Song überhaupt handelt!!! Die anderen Tracks auf "Restless and Wild" sind bei weitem nicht so schnell, sondern bewegen sich eher im Midtempo Bereich, aber das ist so was von völlig Pumpe. Hier reiht sich ein Klassiker an den anderen!!! Sei's der Titeltrack selbst mit seinem messerscharfen Riffing, das schleppende "Shake your Heads", das flotte "Flash Rockin' Man" (eine meiner absoluten Lieblingsnummern) oder der Rausschmeißer die melodische Hymne "Princess oft he Dawn" nur um hier einige zu nennen.

Es passt einfach alles wie die Berühmte Faust auf's Auge. Neben dem erstklassigen Riffing der Gitarrenfraktion Hoffmann / Frank, sind natürlich auch das Gespür für einprägsame Refrains und griffige Hooks die Trademarks, welche die Band bis zum heutigen Tag auszeichnen tut. Das sind einfach Songs, welche für die Ewigkeit geschrieben wurden. Accept's "Restless and Wild" ist und bleibt ohne wenn und aber ein Meilenstein des Heavy Metal!!!
---
---
---