---
---
CD-Reviews E-G
GODSLAVE – Positive Aggressive (2021)
(7.099) Maik (8,9/10) Thrash Metal
---
---


Nachdem GODSLAVE im Jahr 2020 zwei ihrer früheren, bis dato vergriffenen Werke als Doppel-CD wiederveröffentlicht haben, legen sie schon ein Jahr später den nächsten aktuellen Longplayer vor.

Und wenn die mit dem veränderten Gesang vom Slavegrunter versehenen Neueinspielungen, die als Bonustracks auf der DCD mit drauf waren, noch irgendwie eine Gewöhnungsphase brauchten, passt der Gesangsstil auf dem neuen Material wie die Faust aufs Auge. Teilweise fühle ich mich beim Anhören von "Positive Aggressive" an OVERKILL erinnert, und ab und an trifft der Sänger sogar das Timbre von Blitz, besonders beim Song "I Am What It Is".

Dabei bietet das Album eine schöne Mischung. Abgehnummern wie der Opener "How About NO" oder der Titeltrack, Midtempostampfer wie "Straight Fire Zone", dass fast episch/tanzbare "Flap Of The Wing", das ACCEPTeske "King Kortex", oder das galloppierend/melodische Endstück "Final Chapters First" bieten genugend Abwechslung.
Klar, da sind auch ein paar Songs dabei, die bei mir nicht gleich beim ersten oder zweiten Mal zündeten, wie "From Driven" oder "See Me In A Crown". Aber welche band schafft das schon, nur Brecher auf ein Album zu packen? Insgesamt rockt "Positive Aggressive" schon ordentlich die Gruft. Eine schöne Mischung deutschen Thrash'n'Speed mit leichten amerikanischen Anklängen. Heavy Riffs, coole Melodien, Metallerherz, was willst Du mehr? Jetzt bleibt nur zu hoffen, daß es GODSLAVE, wie so vielen anderen, gegeben ist, die Mucke noch in diesem Leben live auf die Bretter zu bringen.

Auf dem Cover prangt natürlich das Bandmaskottchen Horst, der bei dem Sound der Combo auch richtig zu strahlen beginnt. Und dazu hat er auch allen Grund. Mein Favorit ist irgendwie "Flap Of The Wing", der hat sich schon beim ersten Durchlauf in mein Hirn gefressen, und da ich die Scheibe soeben auch noch mal durchgehört habe, wird der wohl die nächsten Stunden in meiner Birne kreisen.

Anspieltipp: "How About No" und "Flap Of The Wing"
---
Bewertung: 8,9 von 10 Punkten
---
01. How About NO
02. Positive Aggressive
03. Straight Fire Zone
04. From Driven
05. Flap Of A Wing
06. King Kortex
07. Show Me Your Scars
08. I Am What Is
09. See Me In A Crown
10. Final Chapters First
---
---
---
---
FESTIVAL TIPS 2021
Tja...wohl doch erst wieder 2022...
---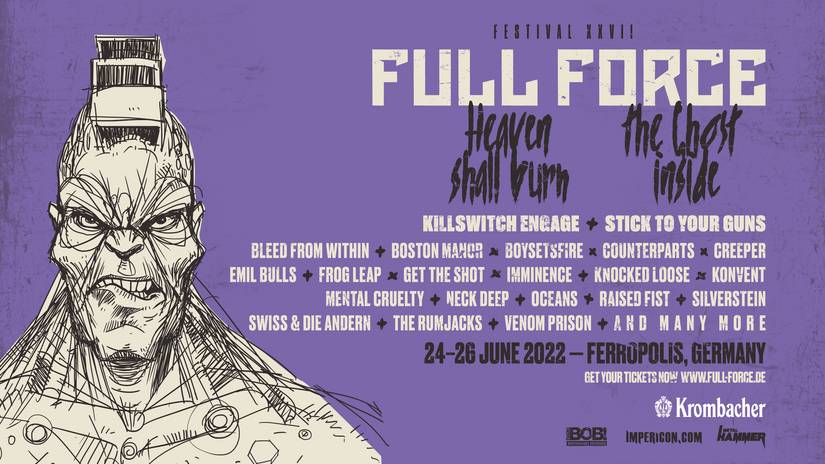 ---