---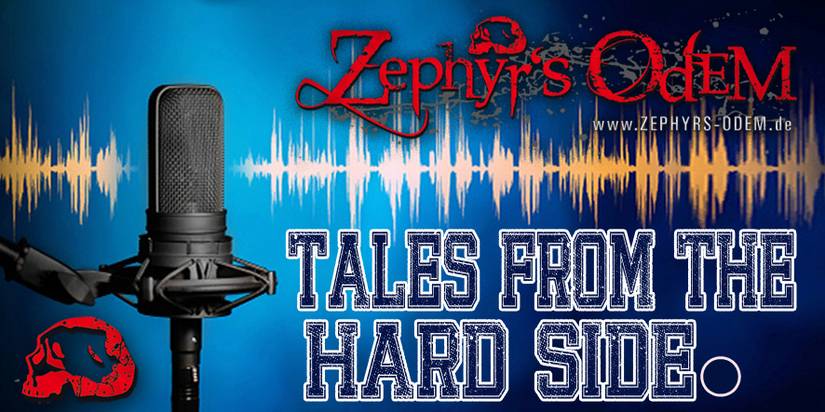 ---
DIE ZEPHYR'S ODEM AUDIO SHOW
---
---
Nein, es ist kein Podcast! Warum? Weil es bei allen Plattformen in Deutschland verboten ist, Musik und Talk online zu stellen. Also…könnt Ihr Euch unsere Audio Show hier runterladen. Was erwartet Euch?

Interviews, Plattenkritiken und viel dummes Gesabbel! Wichtig dabei: Dieses Audioformat ist ausschließlich eine Beigabe zu unserem Magazin, welches weiterhin absolute Priorität genießt. Und jetzt: Viel Spaß mit allen unseren veröffentlichten Folgen.
Einfach auf das Bild klicken und downloaden!
---
FOLGE 30
SOUL GRINDER & US Power Metal Special
---
---
Unsere Specials fliegen uns nur so zu! Heute widmen wir uns den Anfängen des amerikanischen Power Metals, den man mit lediglich 6 Songs gar nicht ausführlich beleuchten kann, doch dafür gibt es die eine oder andere Anekdote aus dem Leben des Herrn Godau und mir.

Im Interview eine Truppe aus Bremen, die man als oldschooliger Todesblei Fan schon länger auf dem Speiseplan haben sollte: SOUL GRINDER! Das Trio hat ein neues Album am Start und will darüber reden, was wir ihnen gerne erfüllen. Dazu wieder ein Haufen aktueller und vor allem geiler Mucke! Enjoy!
---
THRESHOLD – Complex
DESTRÖYER 666 – Guillotine
IRONCROSS - Die Like That
OMEN - Holy Martyr
SWORD - III- I am kommand
SAHG - Fall Into The Fire
ATTACKER - Battle at Helm's Deep
VICIOUS RUMORS - Minute to kill
STRYCHNOS - Blessed be the bastard reign
NOCTURNIS - Unsegen II
MALICE - Godz of Thunder
SAVATAGE - The Dungeons Are Calling
SOUL GRINDER - Anthems from the abyss
SOUL GRINDER - The last supper
SOUL GRINDER - From the nether realm
SOUL GRINDER - Supreme enemy
THE CROWN - Executioner (Slayer of the Light)
DISSECTION - Night's Blood
SOUL GRINDER - Spirit's asylum
THEM - Graffiti Park

Release Date:
17. November 2022
Interviewpartner:
Mathias und Jan (SOUL GRINDER)
Moderation:
Maik & Olaf

Fragen, News, Anregungen? Schickt uns ne E-Mail
---
FOLGE 29
IN SANITY & NWOBHM Special vom 10.11.2022
---
---
Wenn man mit Freunden diskutiert, wo denn der Metal überhaupt herkommt, fällt natürlich meist Black Sabbath als Vorreiter unserer heißgeliebten Musik. Wir wiederum behaupten mal kackfrech, dass es mit dem New wave of british Heavy Metal, kurz NWOBHM erst so richtig losging. Dementsprechend gucken wir mal auf Bands, die neben Maiden, Priest oder Saxon diese Stilrichtung maßgeblich beeinflusst haben.

Dazu spricht Olaf mit den Paderbornern von In Sanity. Die Melo Deather haben sich scheinbar mit ihrem vierten Album "For we triumph" freigeschwommen und werden die Masse ab dem morgigen Tag an ihrem musikalischen Quantensprung teilhaben lassen. Die beste Gelegenheit, um 24 Stunden vor VÖ den Jungs etwas auf den Zahn zu fühlen.
---
METALL – Lord of flies
XENTRIX - Billion Dollar Babies
STRIGOI - Napalm Frost
TOKYO BLADE - If heaven is hell
GRIM REAPER - See You In Hell
THE GASÖLINES - Raceway War
CANDLEMASS - Sweet Evil Sun
DEMON - Don't Break the Circle
SATAN - Blades of Steel
GAEREA – Salve
DARKTHRONE - Kevorkian Times
JAGUAR - Master Game
DIAMOND HEAD - Am I Evil
SAXON - Heavy Metal Thunder
IN SANITY - Phoenix Rises
IN SANITY - Back From The Dead
IN SANITY - Are You In
IN SANITY - Support Your Metal
SAVATAGE - Gutter Ballet
IN SANITY - A Perfect Storm
SPELL - Fatal Breath

Release Date:
10. November 2022
Interviewpartner:
Erik, Nino & John (IN SANITY)
Moderation:
Maik & Olaf

Fragen, News, Anregungen? Schickt uns ne E-Mail
---
FOLGE 28
Ladies Power & Pure Massacre vom 03.November 2022
---
---
Ein Lady's Special, doch nicht so eins, was man erwartet. Nix Dörchen oder Lee Aaaron (die natürlich auch klasse sind…), sondern die harte Seite der holden Weiblichkeit, die uns Männern das Fürchten lehren.

Dazu passend kredenzen wir Euch ein Gespräch mit der neuen deutschen Death Metal Sensation Pure Massacre, die Maik dazu nötigten, für das gerade erst veröffentlichte Debütalbum die Höchstnote zu zücken. Daneben gibt es natürlich auch wieder jede Menge guter Musik. Viel Spaß!
---
XENTRIX - My War
DEFLESHED - Bent out of Shape
KILL RITUAL - The whore of war
CASTRATOR - Tormented by Atrocities
SPACE PARASITES - Crimson Eyes
RIOT CITY - Return of the force
IN SANITY - Guilty Sin
CRYPTA - Starvation
INTROTYL - Zombified
RHYTM OF FEAR – Parasomniac
LEPER COLONY - The Surgical Undeadvors
THE DAMNNATION - The greed
HIRAES - Under Fire
ORIGINAL SIN – Conjuration of the watcher
PURE MASSACRE - Along The Blood Red Path
PURE MASSACRE - The Awakening
PURE MASSACRE - The Void
PURE MASSACRE – 1914
DEATH – Open casket
PURE MASSACRE - Pure Massacre
TYLER LEADS - Red Sun

Release Date:
03. November 2022
Interviewpartner:
Micha, Pit, Patrick und Alex (PURE MASSACRE)
Moderation:
Maik & Olaf

Fragen, News, Anregungen? Schickt uns ne E-Mail
---
FOLGE 27
vom 06. Oktober 2022
---
---
Heute wird mal so richtig dreist geklaut, denn wir kümmern uns um Coverversionen…und da es davon tausende gibt haben wir uns dazu entschlossen, eine ganze Sendung nur dreist ergaunertes Musikgut zu spielen. Das wird bestimmt richtig launig.

Dazu gibt es ein Interview mit Tom Angelripper von Sodom, der aufgrund seiner Abneigung gegenüber neumodischen Kram nur übers Festnetz zugeschaltet werden konnte. Das ist so richtig schön oldschool und passend!
GUN – Word up
IN FLAMES – I'ts no good
TETHRA – Space oddity
ALIEN ANT FARM – Smooth criminal
DIMMU BORGIR – Perfect strangers
CRADLE OF FILTH – Hell awaits
IMPALED NAZARENE – Ghost riders
TESTAMENT – Powerslave
HARLOTT – The time to kill is now
HEAVEN SHALL BURN – Agent orange
BENEDICTION – Forged in fire
INTERLOPER - Rio
BLITZKRIEG – Seek and destroy
LILIAC – Rainbow in the dark
METAL CHURCH – Highway star
SODOM – Electrocution
SODOM – Sepulchral voice
SODOM – Body parts
SODOM - Jabba the hut
SODOM – Baptism of fire
VENOM – 1000 days in sodom
SODOM – In war and pieces
MOTÖRHEAD - Whiplash

Release Date:
06. Oktober 2022

Interviewpartner:
Tom Angelripper (SODOM)

Moderation:
Maik & Olaf

Fragen, News, Anregungen? Schickt uns ne E-Mail
---
FOLGE 26
vom 29. September 2022
---
---
Unsere vorerst letzte musikalische Reise um den Globus führt uns diesmal an den Ganges. Wir schauen uns mal ein klein wenig die riesige Metalszene Indiens an und präsentieren Euch daraus ein paar geile Bands. Und als Interviewpartner steht uns Frank Thorwarth von den legendären Tankard Rede und Antwort. Das wird doch wieder eine starke Sendung, oder?
THE DEAD DAISIES - Shine On
SODOM - After The Deluge
ANTROPOFAGUS - Hymns of Acrimony
BLOODYWOOD - Machi Bhasad
AGAINST EVIL - The sound of violence
FALCUN - The Night Queen
SPIRITUS MORTIS - Death´s Charioteer
DYING PHOENIX - Mother Of Dragons
AMORPHIA - Radiation Overdose
GUTSLIT – Scaphism
EXHUMED - Drained of Color
DAMNATION DEFACED - (Kreator Cover)
KRYPTOS – Nighthawk
ARMAMENT - Chaos Prevails
RAVAGER - Dead future
TANKARD – Pavlov's dawg
TANKARD – Diary of a nihilist
TANKARD – Metal cash machine
TANKARD – Schwarz-weiß wie Schnee
TANKARD – Lockdown forever
EXODUS – Bonded by blood
TANKARD – Veins of terra
MASSIVE WAGONS - Generation Prime

Release Date:
29. September 2022

Interviewpartner:
Frank Thorwath (TANKARD)

Moderation:
Maik & Olaf

Fragen, News, Anregungen? Schickt uns ne E-Mail
---
FOLGE 25
vom 22. September 2022
---
---
QUEENSRŸCHE - Behind The Walls
I AM - Eternal Steel
GHOSTHER - Doomed (feat. Björn Strid)
NECROTTED - Sow Sorrow For Victory (feat. Kevin & Marcus of ACRANIUS)
DYING FETUS - Compulsion For Cruelty
WOLFHEART - Cold Flame (feat Karl Sanders)
MONSTER TRUCK – Warriors
GURD - Merry go round
IRIST - Surging Ablaze
PARASITE INC. - First born
PARASITE INC. - Under broken skies
PARASITE INC. – I am
PARASITE INC. – When all is said
CELLDWELLER – Electric eye
AT THE GATES – Suicide nation
PARASITE INC. – Cyan night dreams
KNORKATOR – Sieg der Vernunft

Heute ausnahmsweise nur mit Olaf und den Jungs von Parasite Inc. im Interview.

Release Date:
22. September 2022

Interviewpartner:
Kai und Lou (PARASITE INC.)

Moderation:
Olaf

Fragen, News, Anregungen? Schickt uns ne E-Mail
---
---