CD-Reviews A-D
ARCHSPIRE – Bleed the future (2021)
(7.385) Olaf (7,5/10) Tech Death Metal
---
---



Alte Scheiße, was zur Hölle ist das denn? Meine Synapsen tanzen Kasatschok, mein Hirn drängt nach draußen und meine Ohren bereiten sich auf einen unbefristeten Streik vor. Was die Kanadier von Archspire für rasende Raubtiere sind, konnte ich bereits anno 2018 auf ihrer Europatour zusammen mit Revocation im Berliner Badehaus livehaftig erleben und auch wenn unserem Timo, Zitat: "…das chaotisch wüste Fundament aus jazzigen Gitarrenparts und klinisch wirkenden Blastbeats nervte…" und er beschloss, fluchtartig das Weite zu suchen (was er am Bierstand dann auch fand, obwohl die gar nicht so weit weg war…), übten die Jungs aus Vancouver eine gewisse Faszination aus. So wie bei einer Wasserleiche beispielsweise. Nicht schön, aber verdammt interessant.

Daran hat sich bis heute nichts geändert und was die Bande auf ihrem vierten Album "Bleed the future" abliefert, grenzt an Chaos, an Aufruhr, ist verdammt schnell…schneller…ultraschnell und degradiert eine Band wie Cattle Decapitation zur Schmusekapelle. Nur mit dem Unterschied, dass sie bei weitem nicht so abwechslungsreich sind, wie ihre amerikanischen Kollegen.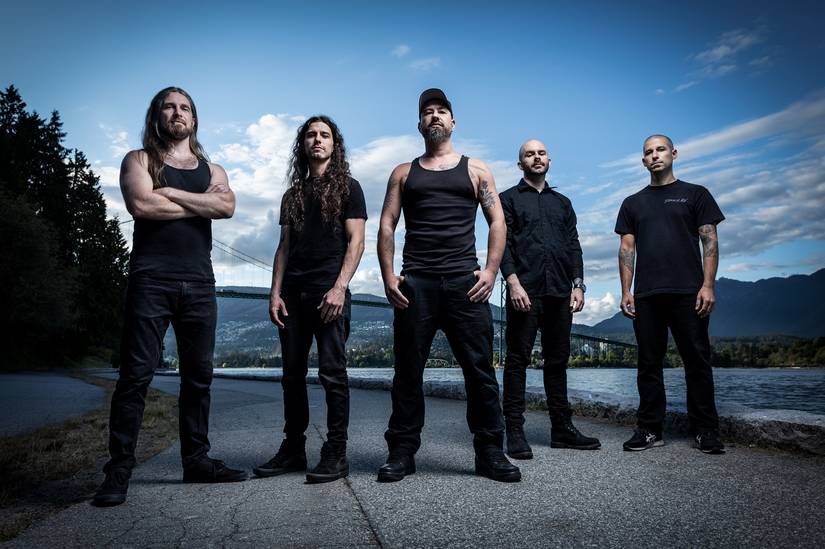 Was Drummer Spencer Prewett hier abliefert, ist nicht von dieser Welt und bewegt sich so im Bereich 800 Bpm, dazu die Stimme von Oliver Rae Aleron, der sich scheinbar überschlägt und schon fast wie Scatman John klingt (Ski-bi dibby dib yo da dub dub Yo da dub dub Ski-bi dibby dib yo da dub dub Yo da dub dub) und ein musikalisches Gerüst, welches Universen zum Einsturz bringen könnte und sogar einen Thanos ins Exil treiben würde. Selbstverständlich hat kein anderer als Dave Otero diese kranke Scheiße produktionstechnisch ins rechte Licht gerückt und sorgt dafür, dass man nach Minimum 3 Songs den Gedanken hat, eine ganze Packung Novalgin zu exen und diese mit Leichenwasser runterzuspülen.

Hier gilt die Maxime "Sick, sicker, Archspire". Wer es schafft, sich ohne bleibende Schäden dieses 31 technisch auf einem grandiosen Level befindlichen Minuten ohne Pause reinzuziehen, dem gebührt mein höchster Respekt. Für den Ottonormalverbraucher und Fans von Truppen wie Aborted, Benighted und Konsorten empfehle ich Gehörschutz, denn dieser Shit ist krass, krasser, am krassesten! Und dabei sehen die sooooo lieb aus...
---
Bewertung: 7,5 von 10 Punkten
---
01. Drone corpse aviator
02. Golden mouth of ruin
03. Abandon the linear
04. Bleed the future
05. Drain of incarnation
06. Acrid canon
07. Reverie on the onyx
08. A.U.M.
---
---
---