A-D
CRIME – Master Of Illusion (2022)
(8.096) Timo (8,5/10) Heavy Rock
---
---



Alte Liebe rostet nicht, oder wie war das? So oder ähnlich sieht man das wohl bei den Schwabenländle-Heroes Crime, die 1993 mit "Hard Times" und 1995 den Nachfolger "No Cure" veröffentlichten. Verlernt scheinen die Jungs bis heute nichts zu haben. Und da muss ich dem Infoblatt auch einmal zustimmen, denn unverwechselbare Hooks und Riffs findet man auf dem dritten Longplayer in Hülle und Fülle. Mit dem neuen Frontbarden Francis Soto von Ivory Tower hat man auch ein gutes Pendant gefunden, für den klassischen Heavy Rock, den die Schwaben reichlich exzellent von sich geben.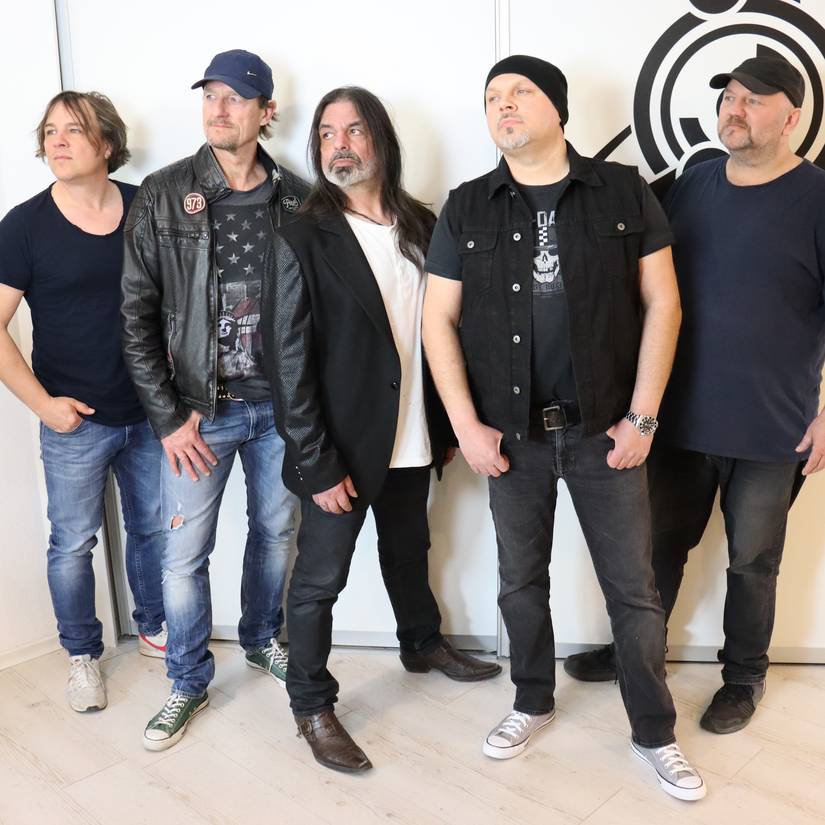 So haben die Crime-Gründungsmitglieder die Band einer reichlichen Frischzellenkur unterzogen, dabei klingen die Songs dienlich traditionell, so finden sich aber dennoch auch zeitgemäße Ideen im Komplott des stilechten Heavy Rock's wieder. Mit klarer Idee gibt's auch bluesige und auch mal proggie Stilmittel auf "Master of Illusion", die den Herren sehr gut zu Gesicht stehen. Bei "Shoot Shoot" lockern ein paar Orgelklänge im Stile von Deep Purple den Sound angenehm auf. Oder die Einsätze einer Mundharmonika bei "Movin On" sind einfach stimmig.
Innerhalb einer Stunde Spielzeit bietet das dritte Album daher so einiges, sei es schon zu Beginn die Halbballade "Tears are falling down", die songwriterisch angenehm durchdacht sich zeigt. Oder das wenig altbacken klingende "From my mind", der gelungen mit Francis Soto's Gesang sich vereint. Das fett groovende "All good things", das mit einem ergreifenden Chorus versehen ist, funktionieren wie Volltreffer. In "Nowhere To Run" findet sich auch eines meiner Lieblinge des Albums wieder, das in all seinen Facetten überzeugt. Ein angenehm getragener Charme zentriert die progesssiven Elemente des Songs vorzüglich. Dem steht ein klassischer Heavy Rock Song wie "Showed Me Love" in absolut nichts nach und zeigt Crime in ziemlich guter Form.
Auch wenn zum Ende mich nicht jeder Song in einen Euphorietaumel treibt, aber hey. So hätte das Album mit zwei, drei Songs weniger auch etwas kompakter gewirkt. Sei es drum, Crime haben mich überzeugt und bereiten mit diesem Album jede Menge Freude. Das mit einem hübschen Artwork und einem knalligen Sound aus dem Proton Studio, fast alles richtig macht.
---
Bewertung: 8,5 von 10 Punkten
---
Tracklist
01. Master of Illusion
02. Tears Are Falling Down
03. From My Mind
04. Shoot Shoot
05. No Life
06. Moving On
07. All Good Things
08. Kingdom Of Desire
09. Nowhere To Run
10. Sisters Of Mercy
11. Show Me Love
12. The Chains
---
---