A-D
DEAD AND DRIPPING – Blackened Cerebral Rifts (2023)
(8.532) Timo (6,0/10) Brutal Death Metal
---
Label: Transcending Obscurity Records
VÖ: 11.08.2023
Stil: Brutal Death Metal
---




Dieses Solo-Projekt von Evan Daniele, bekannt als Trommler von Sentient Horror, hier bereits mit dem dritten Album. Erstmalig unter den Fittichen von Transcending Obscurity Records. Immerhin garniert er den Death Metal Untergrund bereits seit 2016 mit dem Höllengetrümmer. Musikalisch in der Liga zwischen Rottrevore, Regurgitation bis Avulsed zu verorten. Gibt es jederzeit brutalen, klassischen, aber hier auch leicht technischen Death Metal. Stilistisch durchaus in den frühen 90er Jahren der amerikanischen Szene beheimatet.
Dabei hat der Gurgelgesang mich desöfteren an Dave Rotten (Avulsed) und insbesondere Martin Svilink (Pathologist) erinnert. Dead and Dripping geben sich dem technisch, jederzeit brutalen Gemetzel hin. Musikalisch fett riffig, mit variablen Tempowechsel gespickt, mal verschachtelt aber auch direkt auf die Hirnhaut gehämmert. Etwas Carcass-Worship kann man an den Songtitel dann schon erkennen, was für ein Akt diese in die Tastatur zu fräsen. Für Überraschungen sorgt das Album derweil nicht, werden die klassischen Genreoptionen des Brutal Death runtergemäht, dabei ist das Songmaterial eben doch eher mäßig und anderswo schon zigmal gehört. Wohlwollend nimmt man zur Kenntnis, dass die Titel nicht völlig stumpf runtergebrettert werden. Oder wie bei "Infinitely Plummeting into Violet Portals of Delusion", eine fette Doomsalve den Kadaver ordentlich in den Schraubstock spannt. In der Gesamtheit ist mir das aber viel zu dünne.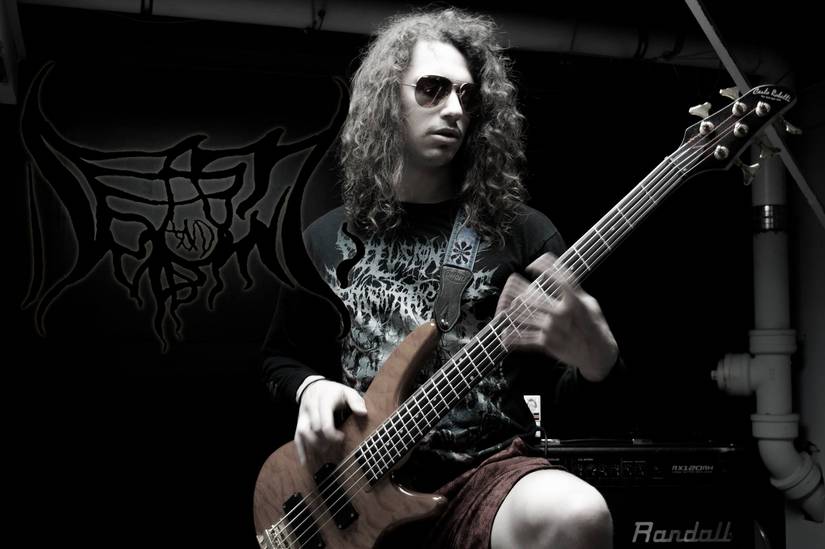 Dennoch bahnt sich das Material relativ unspektakulär seinen Weg, soundtechnisch ganz ordentlich produziert, auch wenn die Drums mal etwas blechern klingen, man gewöhnt sich dran. Death Metal der Brutalo Schiene, absolut kompromisslos und deftig vorgetragen. Ohne groß Akzente zu setzen, bewegen sich Dead and Dripping doch auf soliden, aber eben auch durchschnittlichen Grund.

---
Bewertung: 6,0 von 10 Punkten
---
TRACKLIST:
01.Tragic Ascent of Absurdity's Pale Moon
02. Humanoid Statues Parading Condescending Gestures
03. Aural Interference with Uncanny Subconscious Frequencies
04. Infinitely Plummeting into Violet Portals of Delusion
05. Hopeless Desire for Reprieve
06. Meticulously Unraveling the Serpentine Consciousness
07. Kaleidoscopic Visions of Porous Obsidian Eternities
08. Molecular Degradation upon Warped Onyx Stoves
09. Hysterical Mirages of Otherworldly Calamity

---
---