H-J
HEADSHOT – Eyes Of The Guardians (2022)
(8.079) Marky (9,0/10) Thrash Metal
---
---



Geschlagene 11 Jahre liegt der letzte Longplayer "Synchronicity" zurück und die lange Durststrecke wurde nur durch eine Live-Compilation "20 Years in Metal - Headshot Live" im Jahre 2016 unterbrochen. Da überlege ich nun glatt, wenn die Band sich "erst" im Jahre 1993 als Headshot gründete, wie man dann 2016 auf 20 Jahre Rückblick kommt?!
Schwamm drüber, denn wir wollen uns gleich den erlesenen Thrash Genüssen widmen, die Headshot auf ihrem sechsten Longplayer mit Namen "Eyes Of The Guardians" zelebrieren. Hier gibt es ein Feuerwerk an schnellen Thrash Granaten und Mid-Tempo Stampfern, die sich schnell in der Hörgewinden festsetzen.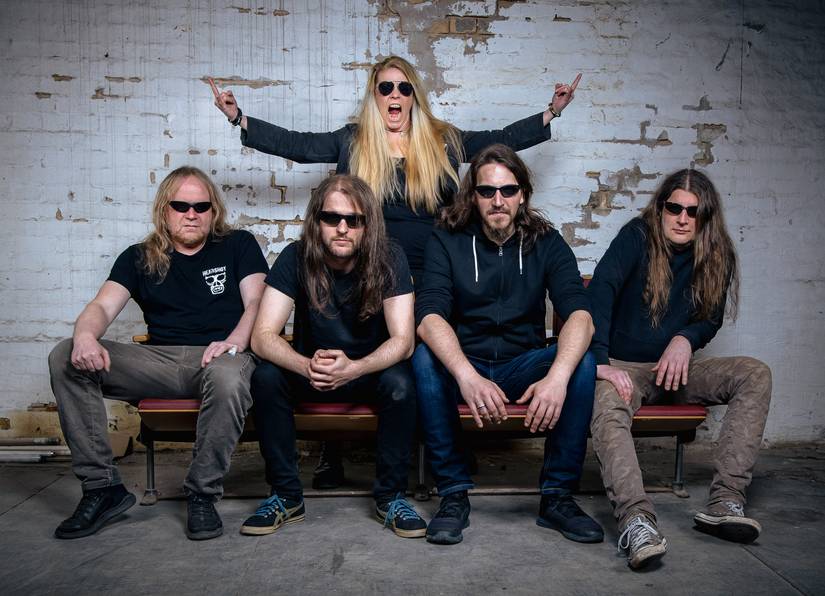 Ein einstimmendes Intro führt direkt in die Thrash Granate "Burned (One By One)" und zeigt gleich mal allen Thrashern, wo der Abschädel Hammer hängt. So muss eine Platte loslegen. Etwas sortierter geht es mit dem Titelsong weiter und holla, da gibt es einen Schmier-Gedächtnis-Schrei zum Anfang des Songs. Ansonsten wird aber auch hier geholzt, was das Shredden an der Gitarre hergibt. Ebenso im Midtempo startet "Scars Of Damnation", entwickelt sich aber trotzdem zu einem derben Stampfer, allein schon durch Daniela Karrer´s brutalen Gesang. Dann folgt der erste Höhepunkt der Platte mit "Ground Zero". Riffs und Gesanglinien münden in Gangshouts und formen so einen Nackenbrecher, der mitgebangt werden will, samt Schmier´s Gedächtnis Schrei. Zwar wieder mehr im gemäßigten Tempi, was den Song jedoch nur intensiver wirken lässt. Rein spieltechnisch ist dieser Song auch hervorzuheben.
Es folgt ein kurzes instrumentales Interlude "Tentacular, Pt. 1", dass hervorragend die Songaneinanderreihung auflockert. Weil es folgt ein weiterer Höhepunkt der Platte mit "Divide Et Impera" der sich ordentlich ins Hirn fräst. Geiler Refrain! "Under A Blood Red Sky" und "The Impenetrable Maze" klingen sehr verspielt, wobei letzterer schon recht proggig daherkommt, im weiteren Verlauf des Songs. Dafür knallt "Veins Of The Earth" nochmal ordentlich thrashig aus den Boxen.
Zum Ende gibt es mit "Invisible" den längsten Song der Platte, mit etwas über 9 Minuten. Natürlich packen Headshot hier all ihr Können in diesen Song, da dürften die atmosphärischen VOIVOD als Paten für die Ideenentwicklung zum Song gestanden haben. Trotz der anspruchsvollen Arrangements kann der Song nochmal mit einen famosen Refrain aufwarten, der echten Wiedererkennungswert hat.
Es tut gut, dass Headshot mit "Eyes Of The Guardians" ein sehr anspruchsvolles und zugleich eingängiges Werk an den Start bringen. Man merkt ihnen regelrecht ihre jahrelange Erfahrung an. Verbunden mit der längeren Produktionszeit durch die C-Kacke, konnte regelrecht an den Songs gefeilt werden, bis alles stimmt. Was Daniela hier stimmlich aufs Parkett legt, braucht keine Vergleiche zu scheuen, da kann sich selbst die Männerwelt mal sehr warm anziehen. Ein Thrash Highlight im Herbst, was will ich mehr?!
Anspieltipps: "Divide Et Impera", "Ground Zero", Eyes Of The Guardians" und "Invisible"
---
Bewertung: 9,0 von 10 Punkten
---
Tracklist:
01. Burned (One By One)
02. Eyes Of The Guardians
03. Scars Of Damnation
04. Ground Zero
05. Tentacular, Pt. 1
06. Divide Et Impera
07. Under A Blood Red Sky
08. The Impenetrable Maze
09. Veins Of The Earth
10. Invisible
---
---