K-M
MIDNIGHT RIDER – Beyond The Blood Red Horizon (2022)
(8.078) Marky (8,5/10) 70er Heavy Rock
---
---



Viele von euch erinnern sich sicherlich an die Zeit Anfang/Mitte der 80er Jahre, als der Heavy Metal seinen Siegeszug antrat und die verstaubte 70er Mucke regelrecht elektrisierte. So empfand ich damals, wie auch immer noch heute, wenn ich eine Platte in die Hand bekomme, die nach Heavy Rock der Frühzeit klingt, dass ich denke, da fehlt einfach der Pepp.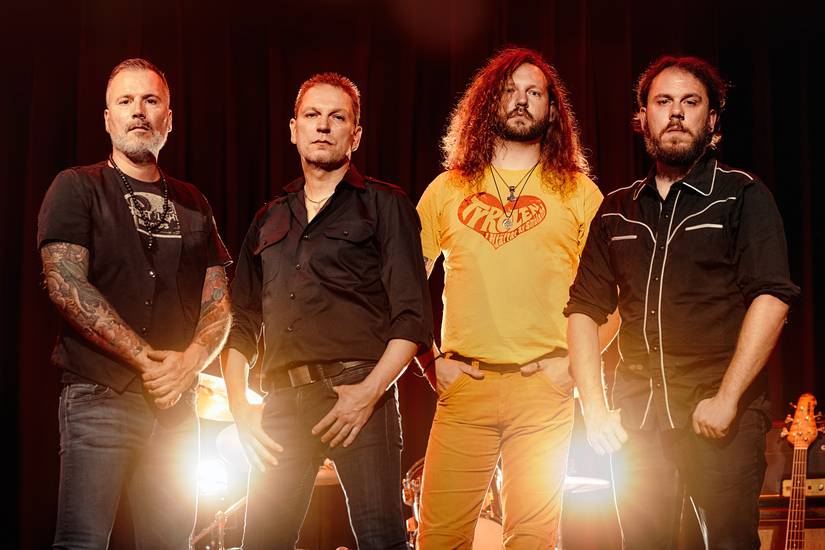 Nun ja, ganze 40 Jahre später, sieht die Musikwelt natürlich völlig anders aus und es gibt im Prinzip alles Mögliche und es wurde auch schon alles gesagt. Somit müssen auch Midnight Rider das Rad nicht neu erfinden und ich versuche mich der Platte, trotz meiner 80er Jahre Traumatisierung, vorurteilsfrei zu nähern.
Midnight Rider sind vier Jungs aus dem Raum Koblenz, die mit ihrem aktuellen Longplayer "Beyond The Blood Red Horizon" ihre zweite Scheibe ins Rund werfen. Geboten werden zehn Songs mit einer Gesamtspielzeit von rund 41 Minuten, im siebziger Jahre Heavy Rock Gewand. Von treibenden Parts bis zu atmosphärischen Riffs ist alles geboten, was die Platte abwechslungsreich hält. Ein gutes Beispiel dafür ist der Song "Time Of Dying". Darüber thront Micha "Wayne" Baum´s melodischer Gesang, der den Songs einen gewissen Wiedererkennungswert vermittelt. Er berührt selbst mich mit Songs wie "No Regrets" oder "Demons" (Hallo, waren hier The Obsessed ein Riff Ideengeber? – ma). Das grooved wie Sau!
Die Band versteht es sehr gut vermottete alte Riffs a la alte JudasPriest oder Deep Purple aufzumotzen, so dass die Songs im bester moderner Stoner Manier aus den Boxen drücken. Und weil es nicht so allbacken klingt, sondern schön knackig, haben mich Midnight Rider regelrecht aus meinem Thrash Himmel auf den Boden der Tatsachen zurückgeholt. Ja, die Platte grooved und viele Songs haben einen hohen Wiedererkennungswert. Alter, wat willste mehr? Kaufen!
Anspieltipps: "Beyond The Blood Red Horizon", "Demons" und "No Regrets"
---
Bewertung: 8,5 von 10 Punkten
---
Tracklist:
01. Beyond The Blood Red Horizon
02. Majestic Warfare
03. No Man´s Land
04. Time Of Dying
05. Intruder
06.No Regrets
07. Rising Dawn
08. Demons
09. Your Parole
10. Always Marching On
---
---