CD-Reviews N-P
OFDRYKKJA – After the Storm (2022)
(8.093) Niclas (5,0/10) Acoustic Folk
---
---



Komisch, sonst sagt man doch die Ruhe käme vor dem Sturm… Da haben die schwedischen Black Metaller von OFDRYKKJA wohl etwas missverstanden, denn diese präsentieren sich auf ihrem neuen Album "After The Storm" überraschend ruhig und gediegen. Hier findet sich ganz sicher kein Metal, stattdessen aber ein entspanntes halbstündiges Folk-Intermezzo.

Ganz so abwegig ist das natürlich nicht. OFDRYKKJA hatten schon auf den Vorgängeralben starke Folk-Einschläge, die nun auf "After The Storm" lediglich bis zum Anschlag aufgedreht werden. Die erste Assoziation, die ich beim Hören der Scheibe hatte waren die AGALLOCH-EPs wie "Of Stone, Wind and Pillor" oder "The White", auf denen die Amis damals die Folk-Aspekte ihrer Musik zur vollen Entfaltung gebracht haben.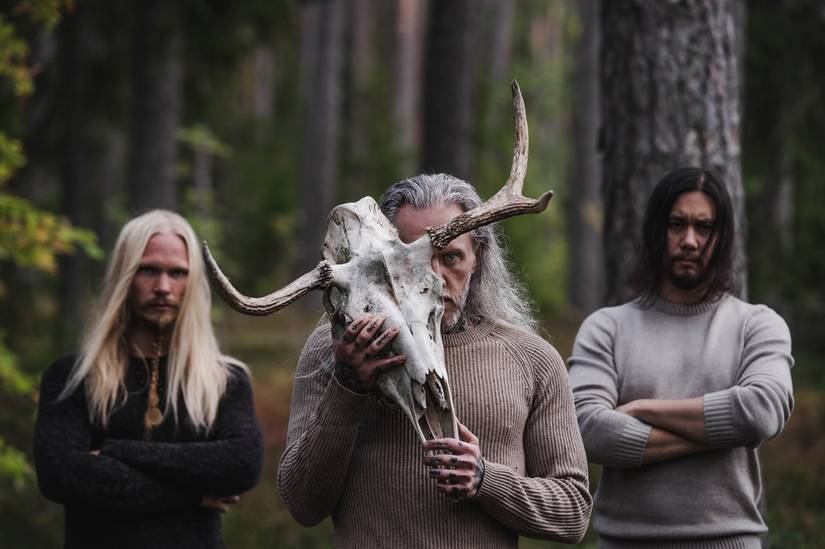 Für OFDRYKKJA, die ohnehin in eine ähnliche stilistische Kerbe schlagen war diese Entscheidung daher wahrscheinlich nur natürlich. "After The Storm" wartet nun also pünktlich zur kältesten und dunkelsten Zeit des Jahres mit warmer akustischer Lagerfeuerromantik auf. Songs wie der Titeltrack oder das etwas rockigere "The Cleansing" bilden dabei emotionale Höhepunkte, die das ganze Können der Band zur Schau stellen und dem Hörer allein durch ihren Klang ein wohlig warmes Gefühl in den Bauch zaubern.

Und doch, irgendetwas fehlt mir beim Anhören des Albums. Trotz allem musikalischen Talent und unbestreitbarer atmosphärischer Dichte kommt "After The Storm" nie wirklich über den Status eines kurzweiligen Zeitvertreibs hinaus. Das Album wirkt fast schon unvollständig.
Alle diese Songs würden problemlos als Interludes oder Intros auf einem gewöhnlichen OFDRYKKJA-Album funktionieren, aber so gesammelt auf einer Platte fehlt einfach der Kontrast. Man hat die ganze Zeit das Gefühl, es müsse doch gleich mal richtig losgehen, doch das Album plätschert nur so vor sich hin und dann ist es plötzlich vorbei.

Letztendlich kann ich hier nur für wirklich eingefleischte Fans eine Kaufempfehlung aussprechen. Alle anderen werden ein paar schöne Minuten aus der Platte rausholen können, doch zum Dauerbrenner in der Playlist wird sie sicher nicht.
---
Bewertung: 5,0 von 10 Punkten
---
01. The Light
02. Hårgalåten
03. The Mære
04. After the Storm
05. The Cleansing
06. Själavandring
07. Beyond the Belt of Orion
---
---