CD-Reviews Q-S
RITUALS OF THE DEAD HAND - With Hoof And Horn (2021)
(7.113) Shadowman (6,9/10) Death / Black Metal
---
Label: Dunkelheit Produktionen
VÖ: 01.05.2021
Stil: Death / Black Metal
---
­­
­
­
­
­
Das belgische Trio Rituals Of The Dead Hand fand sich 2016 zusammen und haben sich dem Black / Doom Metal verschrieben. Die drei Herren sind für mich bis dato ein noch unbeschriebenes Blatt und somit prädestiniert, dass ich völlig unvoreingenommen an das neue Album herangehen kann. Das 2018er Debüt "Blood Oath" erschein bereits unter Dunkelheit Produktionen, sagte mir aber bisher auch nichts.
Am 01. Mai 2021 wurde mit "With Hoof And Horn" der zweite Longplayer veröffentlicht, auf dem fünf Songs auf guten 43 Minuten enthalten sind.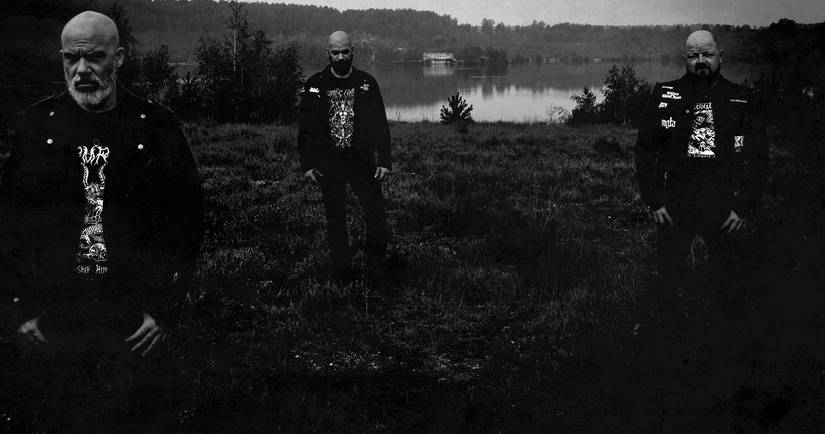 Quelle: Band
Nach dem knapp einminütigen Introsong "Praesemino" folgt "Suphur" und es wird schnell klar, wohin die Reise führen wird. Der Titel startet episch und und bleibt ersteinmal schleppend, viel passiert nicht, lediglich eine düstere Atmosphäre wird erzeugt. Auch die weiteren Songs "Inception", "The Defiling Days" und der Abschluss-Song "Vuurstaeck" schließen sich in Art und Weise an.
Mit "With Hoof And Horn" gehen Rituals Of The Dead Hand den gleichen Weg des geradlinigen, extremen Old-School-Metals. Wieder tauchen die Belgier thematisch in die Legenden, Mythen und Geschichten der berüchtigten Räuber ("Buckriders") ein, die letztendlich wegen ihrer schrecklichen und blasphemischen Taten (spat. 18tzes Jahrhundert) gefasst, gefoltert, vor Gericht gestellt und hingerichtet wurden.
Wahrheit oder Legende? Fiktion oder ein weiterer Beweis dafür, dass der Teufel immer im Dunkeln lauert, besonders hinter den sakrilegischsten Taten des Menschen? Hört mal rein und findet es heraus.
Mit ihrer Musik haben Rituals Of The Dead Hand die lyrische Thematik gut untermalt und dem Ganzen eine Klangfarbe der Düsterness und Boshaftigkeit gegeben, ich hätte mir persönlich gern mehr Facettenreichtum und mehr Abwechslung gewünscht, aber die Musik muss uns oll wohl genau in diesem Gewand daherkommen, so dass es wirklich nur Geschmackssache sein kann, wie es auf ein wirkt. Handwerklich solide gemacht und genau das erreicht, was es erreichen soll.
Die Vocals, der Bass, Gitarren & Samples wurden von Lykaios in Crestfallen im Juli / August 2020. Gemischt und gemastert wurde das Ganze von Jan Lathouwers im Studio 8 im August / September 2020, wo auch das Schlagzeug aufgenommen wurde.
Die Orchesterarrangements in Sulphur von Davy Rodiers (Hallen aus Glasmalerei) und Gastchor-Vocals von Stefan Hex (Voidian) recorded.
---
Bewertung: 6,9 von 10 Punkten
---
Tracklist:
01. Praesemino
02. Sulphur
03. Inception
04. The Defiling Days
05. Vuurstaeck
---
---
---