CD-Reviews T-V
TERRIBLE SICKNESS– Flesh For The Insatiable (2022)
(8.099) Maik (9,0/10) Death Metal
---
---



Dass ein rasantes Metal- Jahr wie 2022 nicht schlafmützig und trübtassig ausklingen darf, sollte klar sein. Zu diesem Behufe haben uns die Hannoveraner Todesbleigießer TERRIBLE SICKNESS ihre dritte Langspielscheiblette aufgetischt. "Flesh For The Insatiable" heißt das Teil und bietet 11 gut abgehangene und blutige Steaks in Metzgerqualität, und dürfte genug Fleisch für die Unersättlichen bieten.

Wir hatten ja in Ausgabe 31 unserer TALES FROM THE HARD SIDE- Audio- Show schon mal einen Song von dieser Platte gespielt. Da ich zur Zeit der VÖ allerdings im Urlaub war, kann ich das gute Stück erst jetzt besprechen.

TERRIBLE SICKNESS braten brutalen Death Metal, der auch mal am Rande des Grindcore einherschippert, aber zu keinem Zeitpunkt in stupides Gehacke ausartet, sondern in rasender Abfolge ein grandioses Riff nach dem anderen aus dem Ärmel schüttelt. Größtenteils toben sich die Knaben auch im Highspeedlevel aus, und lassen dem Hörer kaum Zeit, zwischendrin mal die Nackenwirbel wieder in Position zu schieben.

Der Gesang kommt rau und bellend einher, klingt tierisch brutal, schafft es aber dennoch, eine Art Gesangsmelodie zu kreieren. Das muss man bei derartigem Gebrüll erst einmal schaffen! Dazu ist der Stoff auch noch brutalst auf den Punkt gespielt. Hier wird wirklich mit jedem Ton Druck gemacht, da ist kein Platz für überflüssige Spielereien.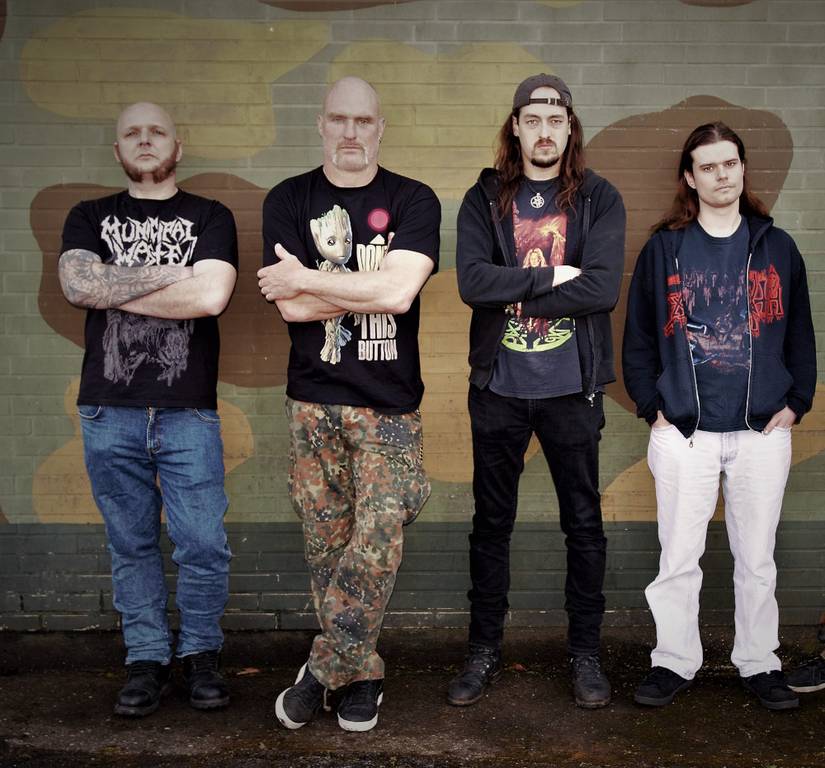 Und mit jedem Hördurchlauf offenbart sich mehr und mehr die Intensität der Scheibe. "Flesh For The Insatiable" besticht nicht nur durch eine gewaltige Rasanz und Geschwindigkeit, sondern unterstreicht diese Dynamik noch durch eine geradezu unglaubliche Aneinanderreihung von coolen Riffs und anderen Ideen, die einem schon jegliche Zeit vorenthalten, um nach etwas zum Meckern zu suchen. Nicht, dass es da was gäbe…

Und wer schnell spielt, ist auch schnell fertig, weshalb nur ein einziger Song die Vierminutengrenze knackt. Das verleiht dieser Tour De Force zusätzliche Dynamik. Wer eher die brutalen Aspekte des Death Metal bevorzugt, auf ausgeklügelte Songs und sporadische Melodien, treibende Gitarrenläufe und Einfallsreichtum nicht verzichten möchte, ist bei TERRIBLE SICKNESS gut aufgehoben. Der Titel "Flesh For The Insatiable" ist Programm, denn selbst der Verfressenste sollte nach dem Anhören der Scheibe gesättigt sein. Schön außerdem, dass man beim Headbangen, Stagediven und ähnlichen metallischen Nahkampfsportarten zu dieser Metzelparty angefressene Pfunde sofort wieder abtrainieren kann.

Zum Abschluss gibt es mit "Feeding Fatal Fairies" noch ein Cover von DEFLESHED, die vor Kurzem ja auch ein fettes Brett abgeliefert haben.

Anspieltipp: "Slaves To Decay" und "Bloody Guts"
---
Bewertung: 9,0 von 10 Punkten
---
---
---