CD-Reviews T-V
THUNDER AND LIGHTNING – F.E.A.R. (2021)
(7.500) Maik (8,0/10) Heavy Metal
---
---



Komisch. Da schrappelt eine Band schon seit über anderthalb Jahrzehnten durch die Botanik, legt mittlerweile schon das siebte Studioalbum auf, und dennoch scheint sie bei der Metalpresse völlig unter dem Radar zu fliegen. Die Rede ist von den Berlinern THUNDER AND LIGHTNING, die soeben ihren neuesten Langspieler namens "F.E.A.R." in die Waagschale geworfen haben.

Okay, ich sollte diesbezüglich vielleicht den Ball flach halten, denn mir ist die Combo ja bisher auch nicht auf den Schirm gerutscht.

Nach einem Laberintro geht es zunächst groovig los, fast mit gothicrockmäßigem Riffing. Auch die Gesangslinien scheinen eher in dieser Richtung zu weisen, nur halt etwas heavier gezockt. Der Song heißt "Beyond the mountain of death" und wirkt eher etwas entspannt. Aber einprägsame Melodien, besonders im Refrain, gehen irgendwie straight ins Ohr. Dazu macht der Vokalist auch nicht auf Tränendrüse und Depri-Eumel, sondern schmettert seine Gesänge recht kraftvoll ins Gebälk.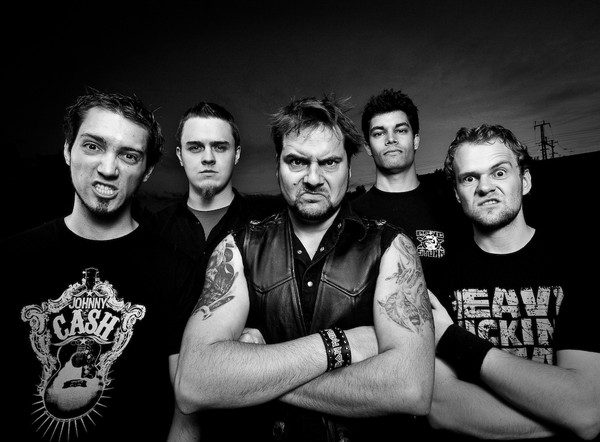 Deutlich stärker in die Heavy-Metal- Kerbe holzt das folgende "Beyond The Mountain Of Death". Schönes deftiges Riffing und ein im Vergleich zum Opener noch kraftvollerer Gesang ergeben zusammen eine geile Power Metal- Hymne. Doch das Thema Abwechslung ist noch nicht gegessen, denn jetzt legen THUNDER AND LIGHTNING noch mal eine Schippe drauf. Mit heftigem JUDAS PRIEST- Drive rammen die Berliner "The Devil's Wife" in den Boden.

Und da es jetzt in dieser Sparte des Metal erst mal nicht mehr schneller geht, wird nun das Tempo etwas gedrosselt, und im unteren Geschwindigkeitsbereich agiert. Es wird mit "The Curse Of Elisa Lam" wiederetwas epischer und hymnischer.

"The Silent Twins" beginnt zunächst recht balladesk, knallt aber nach nicht mal einer Minute die volle Wucht epischen Power Metals in die Botanik, mit den Chören kommt dadurch eine gewisse MANOWAR- Atmosphäre auf. Zwischendrin immer wieder entspannte Gitarrenfudelei.
Als nächstes kommt "The Nation Of Fools". Da kann sich jeder aussuchen, welche das ist. Ich denke mal, da brauche ich gar nicht weit suchen… Hier geht es wieder etwas schneller zu, also eine eher treibende Metalnummer, mit Heavyness und Melodien.

Der Titelsong semmelt erst einmal ein bratendes Speed- Riff ins Gelände, welches auch regelmäßig wiederkehrt. Das Riff, nicht das Gelände. Fette Power Metal- Nummer, die in das nun folgende "RAEF" einmündet. Das ist zwar der Name des Titelsongs, rückwärts geschrieben, aber zum Glück nicht rückwärts gespielt, sondern eine treibende Melodic-Metal- Nummer in der Art von HELLOWEEN, nur eben nicht mit dem typischen Gesang dieser Schiene.

Einen gewissen MAIDEN- Touch hat das nun intonierte "Death Of Innocence", allerdings mit etwas mehr Biss, als die Briten heutzutage abliefern. Und die haben drei Gitarristen, und TAL nur einen, hähä.
Und dann neigt sich die Sache schon dem Ende zu, denn "Time To Rise" beschließt das Album. Der Song beginnt zunächst ruhig, nimmt dann etwas Fahrt auf und wildert sogar im Genre des Sinfonik Metal, mit Keyboardeinlagen und Epik, jedoch ohne den Zuckergußspender auszupacken. Gelungenes Ende einer netten Metalscheibe.

Gut, Im Grunde bedienen sich auch TAL aus dem gewaltigen Fundus metallischer Legate, und die eine oder andere Melodie, das eine oder andere Riff kommen einem dann schon etwas bekannt vor. Dafür haben die Knaben auch keinen Ausfall oder belangloses Füllmaterial auf diesem Silberling. Vielleicht schaffen es THUNDER AND LIGHTNING ja mit "F.E.A.R." mal etwas mehr Aufmerksamkeit zu erhaschen.

Anspieltipp: "The Devil's Wife" und "A Nation Of Fools"
---
Bewertung: 8,0 von 10 Punkten
---
01. Mother Me
02. Beyond The Mountain Of Death
03. The Devil's Wife
04. The Curse Of Elisa Lam
05. The Silent Twins
06. A Nation Of Fools
07. FEAR
08. RAEF
09. Death Of Innocence
10. Time To Rise
---
---