CD-Reviews E-G
GRAVE MIASMA – Abyss of Wrathful Deities (2021)
(7.088) Patrick (8,0/10) Death Metal
---
---



GRAVE MIASMA kriechen mit ihrem zweiten Longplayer "Abyss Of Wrathful Deities" aus dem nassen Grab und verbreiten einen üblen Geruch von Moder. Feuchter und fauliger Gestank macht sich von Beginn an im Wohnzimmer breit und es entsteht das unheilvolle Gefühl, als würde in jeder Ecke der heisere Atem von Gevatter Tod lauern.

Entgegen der altbewährten und genretypischen Death Metal Thematik, bestehend aus Tod und Teufel, dämonischen Geschichten und allerlei blutigen Metzelgeschichten, dreht sich bei den Jungs aus England alles um mysteriöse tibetanische Begräbnisriten und um das Öffnen schamanischer Tore in andere Welten.

Eine unfassbar dichte Atmosphäre zieht sich durch die gesamte Scheibe, welche zum einen in ihrer morbiden Art des Öfteren an die grandiosen Finnen von DEMIGOD erinnert und auf der anderen Seite eine nicht zu leugnende Nähe zu einer gewissen Death Metal Legende aus der Nachbarschaft der Londoner aufweist. In den vielen treibenden Doublebass Momenten, die "Abyss Of Wrathful Deities" zu bieten hat, atmet man förmlich den Spirit von BOLT THROWER. Zwischendurch scheint mal ein bisschen anfängliche PARADISE LOST durch den Sound und auch ganz alte AMORPHIS (Privilege Of Evil) können hier ganz gut als vergleich herhalten. Ihr merkt schon, hier ist nichts modern oder gar innovativ neu…..nein…..hier wird die alte, raue und furchtbar dreckige Death Metal Keule geschwungen und da das alles zum Glück mal nicht in der guten alten HM2 Manier geschieht und somit den schwedischen Großmeistern in keiner Weise gehuldigt wird, kommt das Ganze auch wirklich recht erfrischend aus den Boxen.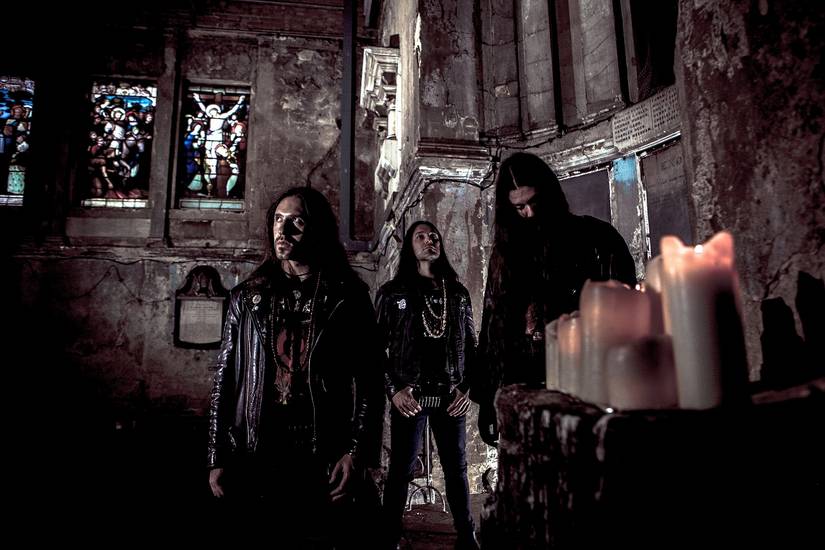 Songs wie der abartig geile "Rogyapa", in dem es um die tibetanischen Totengräber geht, welche die Verstorbenen drei Tage nach dem Tod zur Grabstätte tragen, die Leichen aufschneiden und sie somit den Geiern zum Fraß überlassen, lebt zu jeder Sekunde genau dieses ungewöhnliche und überaus morbide Gefühl dieser schauerlichen Geschichte. Im buddhistischen Glauben wird der Körper dadurch quasi spurlos zerstört und die Seele hat es leichter den verblichenen Körper zu verlassen, um letztendlich einen neuen Wirt zu finden.

Zum Ende der Platte wird es nochmal fast "zum Sterben" schön. Mit dem vom einfach betitelten "Interlude" eingeleiteten "ExhumationRites" fährt einem ein dermaßen fetter und grooviger Brocken dunkler Kunst in Mark und Bein. Hier zeigen GRAVE MIASMA nochmal eindrucksvoll all Ihre Stärken und bündeln diese, um ein wahrhaft fantastisches Stück Death Metal zu erschaffen. Grandios.

Für mich ist "Abyss Of Wrathful Deities" eine absolute Kopfhörer-Scheibe, denn genau dort entfaltet sich der klamme, kalte und modrige Tod, gebettet in einen druckvollen und schön dumpfen Sound am besten. Das Zimmer verdunkelt, ein Gläschen schweren Rotweines und schon kann man abgrundtief in den Hymnen an den Tod versinken. Starkes Teil für alle, die ihren Death Metal zwar nicht ganz so eingängig, aber dafür umso tiefer, vielschichtiger und schwerer erleben möchten.

Anspieltipps: "Rogyapa" und "Exumation Rites"
---
Bewertung: 8,0 von 10 Punkten
---
01. Guardians Of Death
02. Rogyapa
03. Ancestral Waters
04. Erudite Decomposition
05. Under The Megalith
06. Demons Of The Sand
07. Interlude
08. Exumation Rites
09. Kingdoms Beyond Kailash
---
---
---