H-J
IRON FLESH – Limb after limb (2022)
(8.077) Stephan Haese (7,5/10) Death Metal
---
---



Die Franzosen von IRON FLESH liefern uns nach "Forget faith bleeding" 2019 und "Summoning the putrid" 2020, mit "Limb after limb" unter dem Banner von War Anthem Records, nun ihr bereits drittes Album ab. Die Mannen aus Bordeuax fahren waschechten skandinavischen HM-2 Sound auf. Diese Erkenntnis schreit im ersten Moment nicht unbedingt nach einer Revolution, aber zumindest von Evolution kann dabei schon die Rede sein.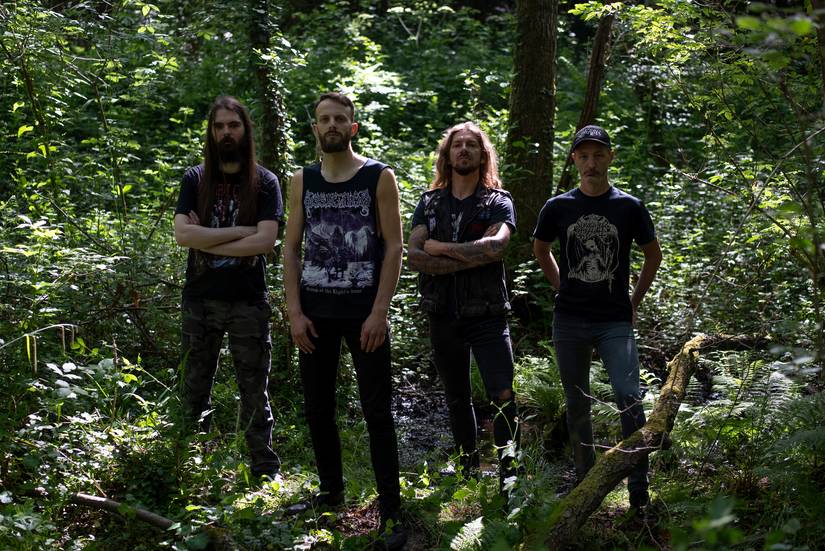 Die umtriebigen Herren haben deutlich mehr auf dem Kasten als ihre 90er old school Wurzeln. So versteift man sich nicht allein darauf, Szeneheroen wie DISMEMBER, ENTOMBED oder ASPHYX zu huldigen, sondern sorgt für ein wenig Abwechslung, manchmal auch in etwas düstere Gefilde oder da, wo es noch etwas modriger wird. Gerade "In Agony you must reborn", "Honor in death" oder "Procession of living cadavers" brechen deutlich aus diesen Schemata aus. So kommen manchmal auch Assoziationen zu UNANIMATED oder DISSECTION zu Stande. Produktionstechnisch hat man nochmal eine Schippe drauflegen können. Das Ganze wurde von David Thiers im Secret Place Studio / Bordeaux aufgenommen, gemischt und gemastert. Das Cover-Artwork stammt artgerecht von Skadvaldur (CRYPTIC BROOD, MISTHYRMING, SINMARA, RIPPED TO SHREDS).
Im Großen und Ganzen wird hier das Rad nicht neu erfunden. Trotz allem ist "Limb after Limb" unterhaltsam und wird mit ziemlicher Sicherheit seine Liebhaber finden. Definitiv Antesten!
Anspieltipps: "Overthrow ov The Sermon ov God" und "Slavebreed"
---
Bewertung: 7,5 von 10 Punkten
---
Tracklist:
01. Overthrow ov The Sermon ov God
02. Cursed Within
03. In Agony You Must Reborn
04. Limb After Limb
05. Blessed Be The Creators
06. Sacrorum Profanationem
07. Honor In Death
08. To Become One With The Dead
09. As Ghouls March On
10. Procession of Living Cadavers
---
---