---
---
Aktuelle Meldungen
TALES FROM THE HARD SIDE - Vol.66 vom 17.11.2023
10% von The Number of the Beast - Heute mal ausschließlich Mucke, dafür aber ein Special
---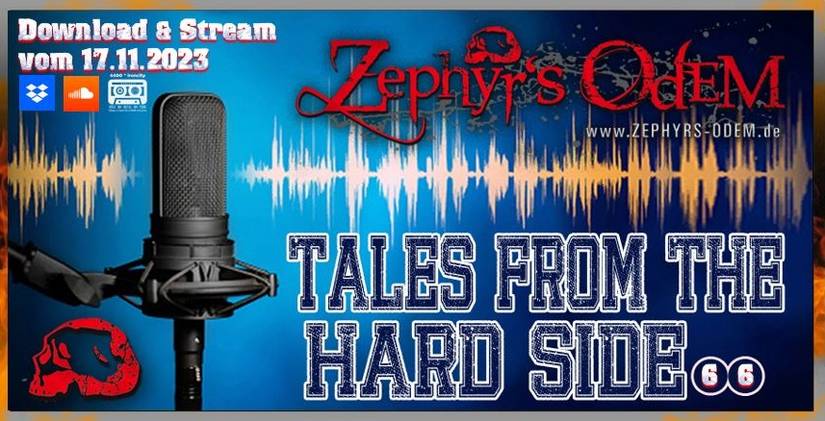 ---
---
---
---
Somit haben wir also die 10 Prozent von The Number of the Beast erreicht. Ein Grund zum Feiern? Nö, das kommt später. Nachdem Maik wieder bei Stimme ist, haben wir uns dazu entschlossen, heute nur Mucke zu spielen und mal auf ein Interview zu verzichten. Außerdem gab es in letzter Zeit so inflationär gute Musik, dass es diese nun aufzuarbeiten gilt.

Dafür gibt es heute mal wieder ein kleines Special, in dem wir uns nach Ausgabe 27 und 51 mal wieder ein paar metallische Coverversionen zur Brust nehmen. Und weil es so schön ist, gibt es von Maik und Olaf noch zwei wegweisende Klassiker mit auf den Weg.

Wie Ihr sehr und hören werdet ein vollgepacktes Programm mit einem Haufen Musik, bei dem es gilt, die Regler bis zum Anschlag aufzudrehen und die Matte kreisen zu lassen. Hail to the Metal und viel Spaß!
---
[0:00:00] THE ROLLING STONES - Bite my Head of
[0:04:07] Tach jesacht
[0:09:20] F.K.Ü.- The Horror and the Metal
[0:13:14] MALOKARPATAN - Kočiar Postupuje
temnomodrými dálavami na juhozápad
[0:20:47] KING DIAMOND - Masquerade of Madness
[0:26:37] SAVAGE BLOOD - Battle cry
[0:33:44] Alles nur geklaut - Teil 1
[0:36:18] NAPALM DEATH - Messiah
[0:39:47] GUTALAX - Dislocated purple Stoma
[0:42:45] DIMMU BORGIR - Burn in Hell
[0:50:14] GENERATION STEEL - Lionheart
[0:55:57] ACID FORCE- World Targets in Megadeaths
[1:02:38] GAMA BOMB - Egyptron
[1:09:38] CARNATION - Herald of Demise
[1:14:48] KANONENFIEBER - U-Bootsman
[1:22:58] DESTRUCTION - Bestial Invasion
[1:28:47] SAVATAGE - Tonight he grins again
[1:36:15] HELGRINDUR - Das Mädchen am Teich
[1:41:25] CRUEL FORCE - At the Dawn of the Axe
[1:47:04] MUGGESEGGEL - Öbber vo Neume
[1:53:21] Alles nur geklaut - Teil 2
[1.56.20] NIMROD - Merciless Death
[2:00:20] LEGIONS OF THE NIGHT- When the
crowds are gone
[2:07:03] IRON MAIDEN - King of Twilight
[2:15:04] SOLITARY SABRED - Spectral Domain
[2:20:10] COBRA SPELL- The Devil inside of me
[2:26:02] Tschüss jesacht
[2:31:21] THUNDERMOTHER - I left my licence
in the future

Release Date: 17.11.2023
Moderation: Maik & Olaf

Fragen, News, Anregungen? Schickt uns ne E-Mail
---
---
---
---