---
---
NEUES AUS DEM HAUSE SCHROD
---
Ihr habt alle sicherlich von den Jahreswechselfeierlichkeiten ne dicke Omme gehabt und habt euren Katar ausreichend gepflegt. Ging mir / uns nicht anders,daher der neue Letter in diesem Monat etwas später. Nicht schlimm, is eh nicht all zu viel zu vermelden. Ein bissel jibbet aber schon, daher hier der HC NEWSFLASH Nr. 01 in der neuen Dekade 2020.

In punkto Festivals is im Januar bekanntlich nicht viel los. Außer natürlich die alljährliche PERSISTENCE TOUR, die wieder mit einem exelenten Billing aufwartet. Ansonsten gäbe es noch das übergreifende FUSION FEST. Das wars eigentlich auch schon.

In den Klubs sieht es zum Jahresanfang ähnlich aus. Außer INFIGHT, JUST ICE sowie die 25 JAHRE DARKEST HOUR – Tour 2020 unter anderem mit FALLUJAH und BLOODLET wäre nicht viel zu benennen. Hier nicht veröffentlichte Tourdaten : wie immer zu finden irgendwo im WWW.

Dafür kommen aber wenigstens ein paar neue CD`s auf Euch zu. STAY IN CONFLICT, COLD FURY, HAEST, POWER TRIP, NATHAN GRAY, LOCKED INSIDE, JODIE FASTER, CUTTTHROAT LA, HIGHER POWER, KAONASHI sowie der schicke Sampler "Actions Over Words: Benefit For The Oregon District Tragedy" warten auf Kauf.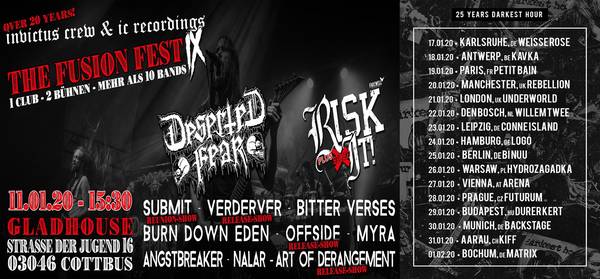 Und sonst so?

ABUSE OF POWER und WHITE FIELDS hören zeitnah auf. Mhhh – nicht schön. Dafür haben sich aber SAFE, BE WELL und SLAPSHOT endlich im Studio verschanzt. Ebenfalls SOCIAL DISTORTION, die nach 9 Jahren endlich ein neues Werk in Angriff nehmen. DEEZ NUTS haben eine nette Doku zu den Aufnahmen von "YOU GOT ME FUCKED UP" veröffentlicht.

Und weil wir gerade von Filmchen sprechen. Das Berliner HC – Urgestein PUNISHABLE ACT hat taufrisch einen neuen Clip rausgehauen...
So, Kinnas – das war`s erstmals wieder für heute. Viel ist es wahrlich nicht. Dafür verspricht der Februar aber etwas Besserung. Am 01.02.20 gibt es dann wie gewohnt wieder dicke Neuigkeiten aus dem HC – Lager. In diesem Sinne – HC 4 LIFE / Euer...
---
---