---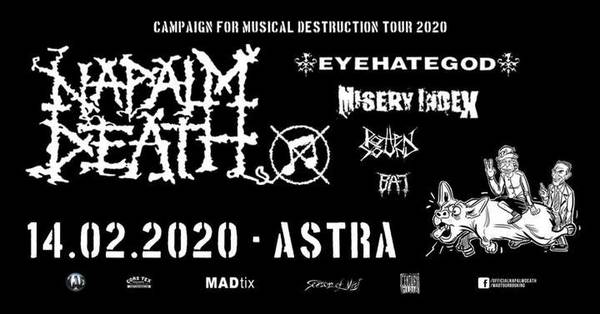 ---
14.02.2020 – Berlin @ Astra Kulturhaus
---
Es ist Freitag und heute steht die Compain For Musical Destruction Tour 2020 in Berlin auf dem Programm. Im Herzen von Berlin, in Friedrichshain, im Astra Kulturhaus auf dem auf dem ehemaligen Reichsbahngelände RAW geben sich heute REACTORY, BAT, ROTTEN SOUND, MISERY INDEX, EYEHATEGOD, sowie die UK-Deathgrind Titanen und Urväter NAPALM DEATH die Klinke in die Hand.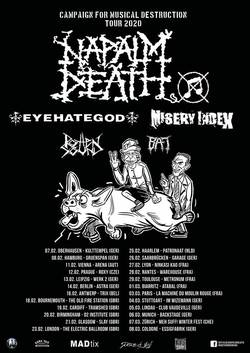 Wir haben es 14.00 Uhr und voller Vorfreunde schwinge ich mich in mein Auto und verlasse die Arbeitsstätte in Richtung Hauptquatier, um der Herzendame noch einmal Tschüss zu sagen und im Anschluss meinen Kumpel Stefan in Neubrandenburg einzusammeln. Pünktlich 20min vor Einlass angekommen und prompt einen Parkplatz gefunden, standen wir nun da. Vor lauter Ungeduld noch fix 4 Kippen inhaliert, einen kurzen Plausch mit dem Keksgrinder geführt und die Pforten öffneten sich.

Eine knappe halbe Stunde später standen dann auch schon REACTORY auf der Matte. Anfangs hatte ich die Befürchtung diese 1500er Location wäre ein wenig hoch gegriffen, da sich zu Beginn lediglich geschätzte 300 Leute in der Halle aufhielten. Dies sollte sich aber im Laufe des Abends noch ändern. REACTORY spielen flotten Thrash Metal mit Leib und Seele, der Spaß war den Herrschaften auch anzusehen. Der Frontmann überzeugte mit seiner genretypischen Stimme, irgendwo zwischen Schmier und Mille. Fast schon ein wenig unheimlich… haha.
Im Anschluss betraten BAT aus Richmond, Virginia die Bühne. BAT ist die Nebenspielwiese von Bassist und Sänger Ryan Waste (MUNICIPAL WASTE, VOLTURE) und Gitarrist Nick Poulos (MUNICIPAL WASTE, Ex-CANNABIS CORPSE). Die Halle war nun bereits zur Hälfte gefüllt. Die Jungs spielen irgendwie eine Mischung 80`er Heavy/ Thrash Metal, mit einer amtlichen Portion Motörhead. Beim Großteil hat es Anklang gefunden, mich konnte das Ganze leider nicht so fangen.

Zu ROTTEN SOUND war die Halle so gut wie voll und das zu Recht. Eindrucksvoll zeigen die Jungs, dass sie nach dem Ableben von NASUM, die Speerspitze des Skandicrust/grind übernommen haben. So holzt man sich anständig durch Titel der "Abuse to Suffer", "Cursed", "Cycles", "Exit" "Murderworks" und der "Sick Bastard" EP durch so gut wie alle Schaffensphasen. Schöner Abriss... Grindcore der Extraklasse.

Lazy Asses
Inhumane Treatment
Self
Power
Targets
Lies
Slay
Western Cancer
Loss
Fear
Brainwashed
Doomed
Koiranyrjö
Corponation
Blind
Danach waren MISERY INDEX am Start. Solide und routiniert wie eh und je, stand das Flaggschiff um Jason Netherton wie ein Fels in der Brandung, leider war der Sound ebenso glasklar und gerade bei schnelleren Stücken hatte ich eher das Gefühl auf einem Polterabend zu sein. Trotzdem ein großartiger Scherbenhaufen.

Embracing Extinction
The Spectator
The Great Depression
Ruling class cancelled
New Salem
The Choir Invisible
Conjuring the cull
The carrion call
Hammering the Nails
Traitors

Bei EYEHATEGOD muss ich zu meiner Schande gestehen, mich lieber im Raucherbereich aufgehalten zu haben. Sicher eine großartige Band und eigentlich mag ich diesen Nola-Sludge-Sound, aber irgendwie waren sie für meinen Geschmack dann doch trotz Kultstatus zu unpassend in diesem Billing.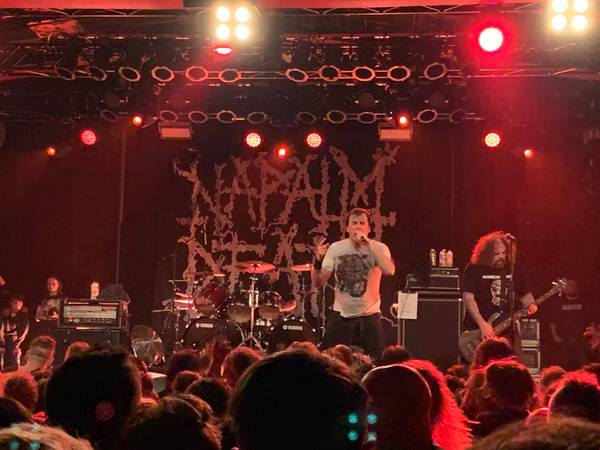 Dann war es soweit NAPALM DEATH betraten die Bühne. Von Beginn an tobte Frontmann Barney Greenway auf der Bühne, krümmte sich frustriert, schweißgebadet und erzählte von Antifaschismus ("Fick dich AfD") und positivem Humanitarismus. Diese Gefühle sind im Moment ergreifender denn je zuvor und er schien teilweise etwas verzweifelt während er zurecht gegen die Ungerechtigkeiten der Welt wetterte. Die Setlist umfasste Napalm Death`s massive Diskographie, darunter so relevante Auswahlen aus dem Debütalbum "Scum" von 1987 und immer noch brutal klingen. oder das eher auf Death Metal ausgerichtete Material der Band wie "Suffer the Children" aus der "Harmony Corruption" der 1990er. Auch nach über 30 Jahren Bandgeschichte, haben NAPALM DEATH immer noch reichlich an Kraft, Energie, Ausdauer und Spielfreunde im Gepäck, um junge und alte Death Metal Hasen glücklich zu machen. Klasse Show und auf mindestens 10 weitere Jahre mit euch ;-)

Discordance
I Abstain
Silence Is Deafening
The Wolf I Feed
Can't Play, Won't Pay
Social Sterility
Scum
Fatalist
Logic Ravaged By Brute Force
Suffer the Children
If the Truth Be Known
Human Garbage
When All Is Said and Done
Mass Appeal Madness
Unchallenged Hate
You Suffer
Smash a Single Digit
Cleanse Impure
Dead
Nazi Punks Fuck Off (Dead Kennedys cover)
White Kross (Sonic Youth cover)
The Lifeless Alarm
---
---