---

---
---
Die schlechte Kopie von 2020 - Der Jahresrückblick 2021
---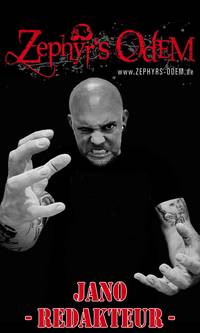 2021, die schlechte Kopie von von 2020 mit besserer Mucke! Ich glaube die Pandemie hat einigen Bands echt ganz gut geholfen wieder zu alter Stärke zurückzufinden. Ansonsten war das Jahr wie 2020 auch einfach nur für den Arsch. Ich will mich hier auch nicht politisch äußern oder meine Meinung zu dem Ganzen aufschreiben aber 2021 hat mich auch zum ersten Mal in meinem Leben an meine Grenzen geführt. Hoffen wir mal das 2022 evtl. wieder ein bisschen besser wird.
---
---
01- We Butter The Bread With Butter – Das Album
02- Volbeat – Servant Of The Mind
03- Behemoth – In Absentia Dei
04- Me And That Man- New Men, New Songs, Same Shit vol.2
05- Asphyx - Necroceros
06- Helloween - Helloween
07- Pop Evil – Versatile
08 – Iron Maiden - Senjutsu
09 – Cannibal Corpse – Violence Unimagined
10- Cradle Of Filth – Existence Is Futile
---
Meine Bonus-(Arsch)Bombe des Jahres 2021
---
2021 hatte aber noch weitere coole Bands und Platten parat. Nachfolgend kommen meine Bonus Bomben, die nur ganz knapp an der Top 10 vorbei gerauscht sind.

Fargo – Strangers D'Amour
Mädhhouse - Bad Habits
Sarke - Allsighr
Ministry – Moral Hygiene
Blood Red Throne– Imperial Congregation
KK's Priest– Sermons of the Sinner
Lordi – Lodiversity
Ego Kill Talent – The Dance Between Extremes
Memoriam – To The End
Endseeker – Mount Carcass
Fear Factory – Agression Continuum
Angelus Apatrida – Angelus Apatrida

Meine persönliche ARSCHBOMBE war aber definitiv
Running Wild – Blood On Blood
---
KONZERTE / GIGS DES JAHRES 2021
---
Ich habe es echt genossen beim B&B Stromgitarrenfest gewesen zu sein. Die Orga und der Sound waren sehr gut und auch die Bands waren Fett. Leider war die Resonanz vom Publikum ein bisschen Mau. Ich hätte echt mit mehr Gästen gerechnet.
---
ÜBERRASCHUNGEN DES JAHRES 2021
---
ESKIMO CALLBOY! Ich glaube keine andere Band konnte mich dieses Jahr so fesseln wie die Castrop Boy. "We Got TheMove" und "Pump It" oder auch CastropXSpandau sind Dauerbrenner in meiner Playlist geworden. Ich verfolge die Band jetzt schon mehrere Jahre aber was sie aktuell an Songs raus hauen gefällt mir mega gut....weiter so!
---
---
Wenn auch nicht ganz neu aber der Name ist es ja, Rise Of Kronos!
---
---
Ich muss es einfach auch mit reinnehmen. 2021 sind eine Menge Musiker, Schauspieler und auch persönliche Bekannte gegangen. Die Trauer saß tief, der Schmerz vergeht aber und doch bleiben diese Menschen einfach im Herzen und im Ohr. Sei es LG Petrov, Sven Groß, Joey Jordison, Dusty Hill oder auch Hank von Helvete! Sie alle hinterlassen Riesenlücken aber wir werden euch nie Vergessen...daher REST IN POWER!
---
---