---

---
---
Froh, dass es vorbei ist! - Der Jahresrückblick 2021
---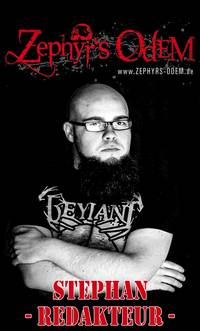 Auch dieses Jahr hat sich nicht unbedingt von seiner besten Seite gezeigt, dennoch gab es so einige Highlights gerade auf dem Veröffentlichungssektor. Irgendwie bin ich trotzdem froh, dass es vorbei ist.

Großartige Menschen und Künstler sind auch in diesem Jahr wieder von uns gegangen, manch einer auch viel zu jung. Da wären allem voran der Szeneliebling und Rampensau L.G. Petrov (ENTOMBED), gefolgt von Eric Wagner (ex-TROUBLE, THE SKULL, BLACKFINGER), Joey Jordinson (ex-SLIPKNOT, ex-MURDERDOLLS), Sven Groß (FLESHCRAWL), Dominik Köinig (STILLBIRTH), Hank von Hell (ex-TURBONEGRO), Dusty Hill (ZZ TOP), John Hinch (ex-JUDAS PRIEST), Charlie Watts (ROLLING STONES), Alan Lancaster (STATUS QUO und Gründungsmitglied der THE SCORPIONS).

John Lawton (URIAH HEEP), Bauke de Groot (HATE SQUAD), Andrea Meyer Haugen (HAGALAZ RUNEDANCE, NEBELHEXE) , Mike Howe (METAL CHURCH), eigentlich wieder viel zu viele.

Lange Rede, kurzer Sinn. Für 2022 bleibt nur zu hoffen, dass wir alle größtenteils gesund durch das Jahr kommen und einige Liveaktivitäten die Zeit versüßen werden. Vor allem sollten wir aber genug Zeit und Möglichkeiten für die wirklich wichtigen Dinge im Leben nutzen. Das Leben ist eben doch manchmal einfach zu kurz. Die Priorisierung muss jeder für sich selbst festlegen.
---
---
01. THE LURKING FEAR - death, madness, horror, decay
02. GRAND CADAVER - Into the maw of death
03. LOCK UP – The dregs of hades
04. ASPHYX – Necroceros
05. UNANIMATED – Violence in Blood
06. THE RUINS OF BEVERAST – The Thule Grimoires
07. MARIANAS REST – Fata morgana
08. AT THE GATES – The Nightmare Of Being
09. AMENRA – De Doorn
10. THE CROWN – Royal Destroyer
---
---
UNDER THE CHURCH – Total burial
HARAKIRI FOR THE SKY – Maere
TRIBULATION – Where the gloom becomes sound
CANNIBAL CORPSE – Violence unimagined
DÖDSRIT– Mortal coil
EMISSARY OF SUFFERING – Mournful Sights
EYES- self-titeled
AGE OF WOE – Envenom
OBSTRUKTION - Monarchs of Decay
BLESSINGS - Biskopskniven
PORTRAYAL OF GUILT - We Are Always Alone
GHOST BATH – Self Loather
EYEHATEGOD - A History of Nomadic Behavior
THE VERY END – Zeitgeist
BANDofSPICE – By the corner of tomorrow
OMNIUM GATHERUM – Origin
HYPOCRISY – Worship
KNOCKED LOOSE - A Tear in the Fabric of Life
HOLDING ABSENCE - The Greatest Mistake of My Life
GOD'S HATE - S/T
ABORTED – Maniacult
FEAR FACTORY - Aggression Continum
PESTILENCE - Exitivm
KATATONIA – Mnemosynean
HIRAES – Solitary
NETHERBIRD - Arete
TRANSPORT LEAGUE– Kaiserschnitt
GROZA – The Redemptive End
WHITECHAPEL – Kin
NIGHT CROWNED – Hädanfärd
WOLVES IN THE THRONE ROOM – Primordial Arcana
---
Konzerte / Gigs des Jahres
---
20.03.2021 NERO DOCTRINE – Greifswald/ Livestream JUZ Klex
26.06.2021 Friedemann – Greifswald/ Juz Klex Hof
16.07.2021 ZSK – Greifswald/ Juz Kex Hof
03.09.2021/ 04.09.2021 UNDEFEATED FEST – Protzen
10.09.2021 Fette Ente im Krokoteich – Bergen auf Rügen/ La Grange
23.09.2021 JINGER, HYPNO5E, SPACE OF VARIATIONS – Rostock/ MAU-Club
23.10.2021 ROSTOCK DEATH FEST – Rostock/ JAZ
---
---