---
---
---
Getrost als Katastrophe abhaken - Der Jahresrückblick 2020
---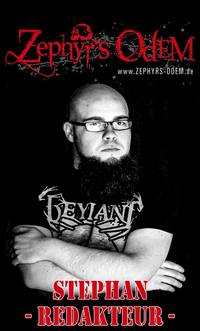 Das Jahr 2020 liegt in den letzten Zügen. Abgesehen von einer amtlichen Hand voll an guten Releases kann man dieses, in Anbetracht der COVID-19-Pandemie und der daraus resultierenden Zustände für die Gesellschaft, der Veranstaltungsbranche und den Fans getrost als Katastrophe abhaken. Zumindest die kommende erste Jahreshälfte wird uns dieser Zustand wohl auch noch weiter beschäftigen.

Die Erfindung der Quarantäne-Live-Streams war und ist eine gute Sache, im Endeffekt aber doch ernüchternd und kein wirklicher Ersatz für Live-Veranstaltungen. Solidarität wird in einigen überschaubaren Situationen wieder großgeschrieben.

Viele große Menschen sind von uns gegangen. Sei es unser allseits Geliebte Freund Enrico "Enni" Haagen oder große Namen der Branche, wie Sean Reinert (Cynic, Death), Riley Gale (Power Trip), Eddie Van Halen, Tony Costanza (Machine Head, Crowbar) oder Paul Chapman (UFO) welche mir gerade auf die Schnelle einfallen. Für alle war es eigentlich viel zu früh.

Trotzalledem blicke ich positiv in die Zukunft und freue mich auf die ersten Konzerte und Festivals nach dieser ganzen Scheiße, sowie auf das Wiedersehen der Freunde und vielen Bekanntschaften mit liebevollen Umarmungen.
---
01. LIK – Misanthropic breed
02. KATATONIA – City Burials
03. NIGHT IN GALES – Dawnlight garden
04. DEMONICAL – World Domination
05. THE OCEAN – Phanerozoic II
06. DARK TRANQUILLITY - Moment
07. GRACE.WILL.FALL - Barren By Design
08. DISBELIEF – The Ground Collapse
09. NAPALM DEATH - Throes of joy in the jaws of defeatism
10. DEHUMAN REIGN – Descending upon the oblivious
---
PYOGENESIS - A Silent Soul Screams Loud
KIRK WINDSTEIN – Dream in Motion
GOD DETHRONED – Iluminati
DEFTONES - Ohms
DERANGED - Deeds of Ruthless Violence
MOLOKEN - Unveilance of dark matter
ANCST - Summits of despondency
AFSKY - Ofte Jeg Drømmer Mig Død
BENEDICTION – Scriptures
SLAUGHTERDAY – Ancient death triumph
NIGHT IN GALES – Downlight garden
NYKTOPHOBIA – What lasts forever
CENTINEX – Death in pieces
MANTAR - Grungetown Hooligans II
DAWN OF SOLACE – Waves
AUTUMNBLAZE – Welkin shores burning
NECROPHOBIC – Dawn of the damned
KAUNIS KUOLEMATON - Syttyköön Toinen Aurinko
HEAVEN SHALL BURN – Of truth and sacrifice
MY DYING BRIDE – The ghost of Orion
SEPULTURA – Quadra
DEFEATED SANITY - The Sanguinary Impetus
WOLFHEART - Wolves of carelia
BODY COUNT – Carnivore
ARROGANZ – Morsus
SUNKEN – Livslede
NAGLFAR - Cerecloth
HATEBREED – Weight Of The False Self
PARADISE LOST – Obsidian
DÉCEMBRE NOIR - The renaissance of hope
---
auch wenn sie nicht unbedingt als Newcomer zu bezeichnen sind, so war ich doch äußerst überrascht von den Releases der Schweriner Herrschaften von STRYDEGOR, welche mit eine Art Neufindung aufwarteten, sowie den Jungs von DARRAGH mit ihrem melancholischem Prog/Rock/Metal, aus dem lange ein Geheimnis gemacht wurde.
---
Konzerte / Gigs des Jahres
11.01.2020 Greifswald/ Klex w/ INFIGHT, ARROW MINDS, INFECTED UNION & JAMES FIRST
24.01.2020 Rostock/ MAU Club w/ VOMITORY, BODYFARM & CHAOS AND CONFUSION
08.02.2020 Greifswald/ Klex w/ KORA WINTER, FORESHADOWER & DRUKNER
14.02.2020 Berlin/ Astra w/ NAPALM DEATH, EYEHATEGOD, MISERY INDEX, ROTTEN SOUND & BAT
---
---